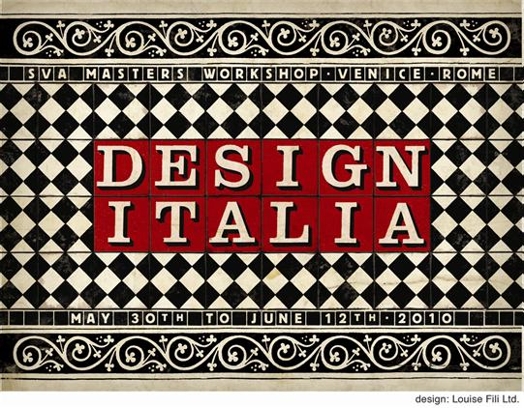 Design Italia
Dec 17 2009
This summer, spend two weeks in Italy, the birthplace of Western typographic tradition at the Masters Workshop in Design History, Theory and Practice.
Venice: May 30 – June 5, 2010 In collaboration with the Fondazione Claudio Buziol, Grand Canal
Rome: June 6 – 12, 2010 Sapienza University of Rome, Piazza Fontanella Borghese
Immerse yourself in Italian culture
Daily courses on food, type and design
Field trips to museums, ancient sites, letterpress printing shops and design studios
Metal type and woodtype workshops with Italian faculty
Produce projects for publication
American Faculty:
Lita Talarico and Steven Heller, co-chairs of MFA Designer as Author at the School of Visual Arts; Louise Fili, designer, Louise Fili Ltd, and author of Italianissimo.
Italian Faculty:
Dr. Darius Arya, Roman Archaeologist; Carlo Branzaglia, Director of Design, Academy of Fine Arts, Bologna; Giorgio Camuffo, Studio Camuffo, Venice; Cristina Chiappini, Graphic and New Media Designer, faculty, University of Rome; James Clough, Typographer and Calligrapher, Milan; Mauro Zennaro, Designer and Typographer, Rome.
https://design.sva.edu/masters_workshop_italy/