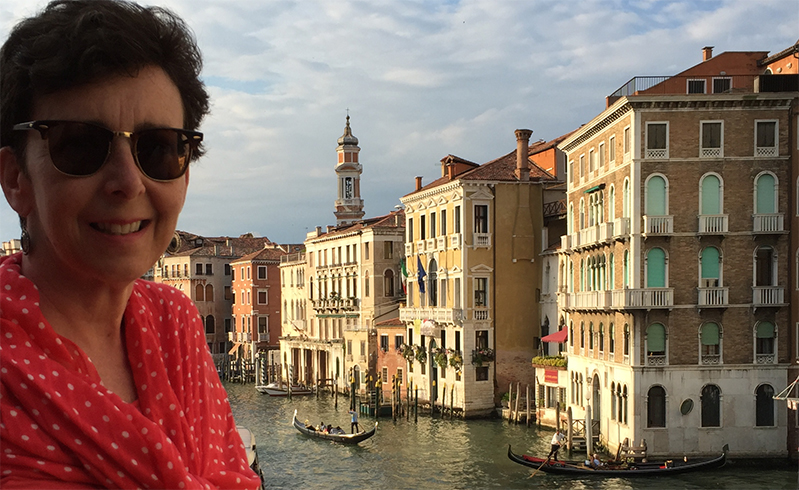 Roma: Love of Letters Is Universal
Dec 16 2015
To launch the Rome Summer Workshop we asked some past participants to talk about their experiences. This is from Jan Marie Ballard, Fort Worth, Texas, from Texas Christian University Graphic Design Instructor of Typography, Corporate Identity, Publication Design, Senior Thesis and Professional Recognition.
What was your favorite part of the workshop and did you gain anything you did not expect? Being among the people of Rome and studying in the foundation of western communication, I gained a new love of the living history that is the Eternal City. Once you experience the daily integration into the pace and fabric of Rome, it is an experience you yearn to relive often, even if only in your recollection of your time spent wandering the city.  During my final presentation, it was important to not only thank the people of Rome for their warm hospitality, but for their daily inspiration. That inspiration is something I still carry with me, years later.
How has it changed your career? Being curious is both the nature of a designer and a teacher. Exploring the culture and history of the living, vibrant city of Rome is an experience most return to. I returned to Italy the very next summer, sharing my new outlook with my family, exploring Rome, Florence and Venice. (see pic)  Being in the moment of the beauty around you, reminds one to enjoy the process in your own work outside of the classroom. The entrepreneurial thinking with program co-founders Lita Talarico and Steve Heller provided the foundation for thinking ahead in designing for personal business concepts. This mind set provided structure to my career thinking outside the world of academia.
What did you learn the most? Part of the hands-on aspect in Rome included a day long letterpress workshop at RUFA with Mario Rullo, Mario Fois and Maria Pina Bentivenga. I have continued to explore my personal work collecting and using historic pieces of wood type in my practice. I find myself now returning to Two Rivers in my home state of Wisconsin to visit the Hamilton Type Museum, or traveling to Austin's Rob Roy Kelly collection in my adopted state of Texas, seeking the tangible items of communication where it meets history.
And have you shared with others? Learning from James Clough, Louise Fili, Mauro Zennaro, Daria Arias, Cristina Chiappini and Paola Manfroni reminded me to develop time for giving back to educational outreach beyond my campus. Encouraged by my success in the classroom with student nominated teaching awards, I applied to present a community based project at TypeCon 2015 in Denver featuring student solutions from my corporate identity classes. The TCU corporate identity students worked on a branding assignment with local middle school entrepreneurs. Attending the TypeCon conference with alumni, some emerging teachers themselves, showed me the fruits of passing on the love of typography to not only my students, but to peers. (see pic)
How would you describe the program to others? The love of letters is universal. Meeting those devotees in the summer program from Brazil, Sweden, Australia, Turkey, Dominican Republic, South Korea, and New York, reminded me that the basis of communication can result in a love of the medium of the message, in any language. The SVA Rome workshop brings together international typography enthusiasts in an incredible venue to learn from the best in the fields of history, archeology, design, typography, and business. Participants delve into personal projects inspired by their time spent in Rome, each leaving with renewed creativity and a broadened outlook on their chosen professional field.