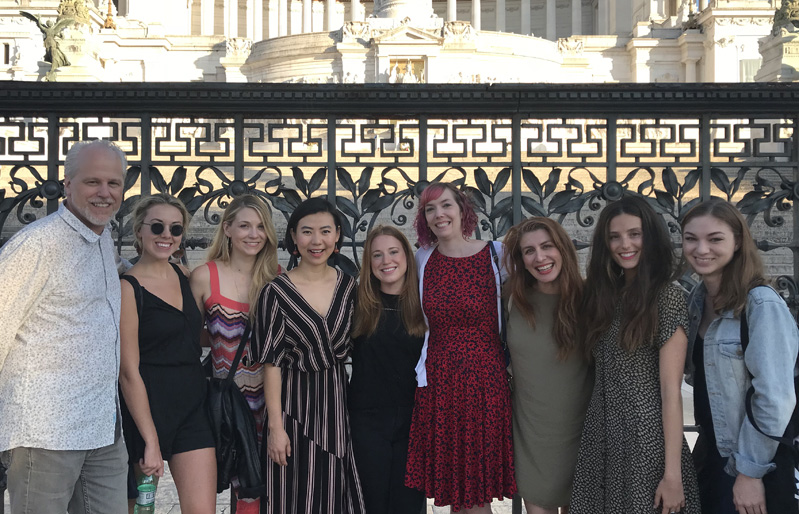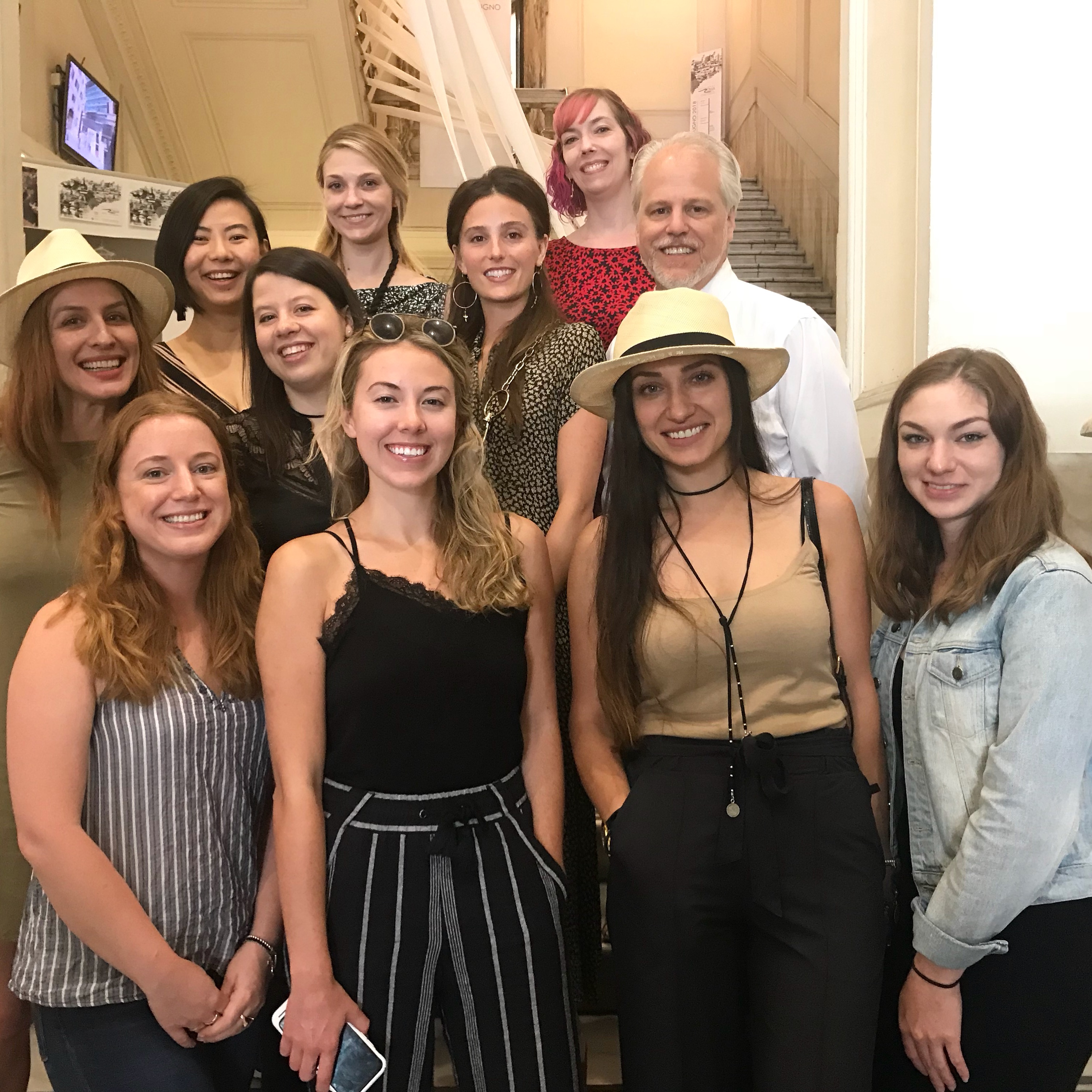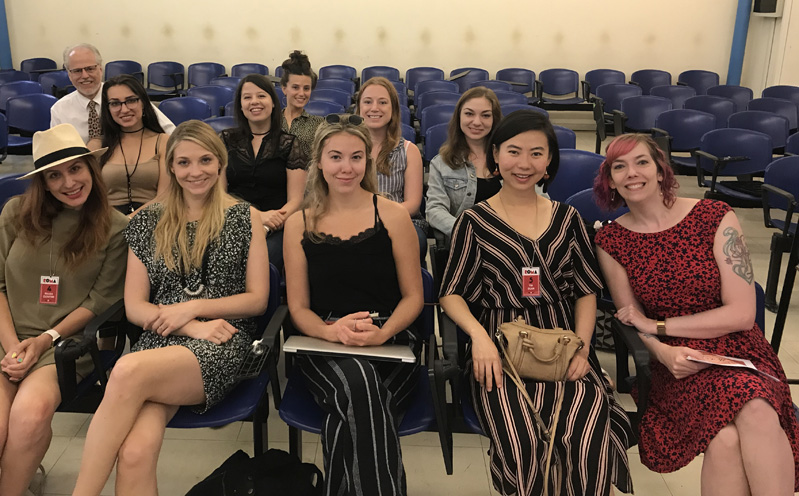 Rome: The Morning After
Jun 10 2018
We asked out SVA Typography Workshop in Rome participants what was their favorite Roman experience. Here are some . . .
Sarah Bachman
"My favorite thing about Rome is the overall color palette. These peachy tones, and the texture of walls, where they have been painted over in different colors is so beautiful – especially seeing the layers on a rooftop at golden hour. It doesn't get old!"
Khara Cloutier
"I'm going to miss waking up in Rome every morning, surrounded by all its beauty and history. It was a pleasure to take in as much as we did together during our stay."
Natalia Dobrinina
"It was very special. Everything about it. People, the hotel, streets of Rome, atmosphere, food, places we went to, knowledge that was shared with us, projects that came out of it…
Very well organized workshop, perfect balance of lectures, hands on classes and tours, very enjoyable and not overwhelming at all. I'd do it all over again if I could"
Yin Duan
"It was absolutely a pleasure to take the SVA Design Rome program this year. My favourite part was that how everyone bonded so quickly and well. Thoroughly enjoyed everyone's company. In terms of activities within the program, I loved the letterpress workshop – how we get to have the hands on experience to explore the old ways of printing! Each of us even completed our very own piece of work using both image and type."
Isabelle Gioffredi
"I have had a wonderful time taking this course. I loved the letter press workshop, learning about art history and working with you all on my project. It is not every day that you get to work with and learn from accomplished designers, and for that I am forever grateful."
Jennifer Hines
"I really enjoyed the Porta Portese flea market and all the great inspiration (so many amazing typographic items!!) and fun finds to bring home, followed by a great pasta lunch! I also loved the gelato—let's not forget that… and the churches… and the apertivo… and the new friends!"
Briteny Leal
"To study the letter in Rome is nothing short of a privilege, but to study under amazing designers while in Rome..what a dream! I learned so much from the workshops and tours, and of course the company. I really enjoyed the time we were given to explore the city and to get to know designers from around the world. My favorite part was the letterpress workshop at RUFA…actually RUFA itself was my favorite…MFA at RUFA perhaps!? The final projects were beautiful and became my second favorite part. I'm so happy I was able to go and appreciative of the new relationships and knowledge!"
Tim Powers
"On the way to the airport, I passed by a building that was featured in a lecture the previous week in James Cough's workshop. It does a nice job of representing the old and the new of Rome: the history lessons, the progressive design Italy gives us, the Roman contribution to typography. The Palazzo della Civilta' Romana is nicknamed the Colosseo Quadrato (Square Colosseum) for its resemblance to it less angular namesake. Inititated by Benito Mussolini, the building began construction 1938 for the 1942 World Exhibition, which never happened. It sat empty for a decade as events of the world swirled around it. It has since served a few different functions including being the headquarters for the fashion brand Fendi. As it seems with Rome, the world moves forward, Rome documents it and we learn from it. We are fortunate to have such record."
"I am fortunate to have had this opportunity to learn from the knowledgeable design professionals in this program. Lita Talarico, Louise Fili, and Steven Heller have done a magnificent job designing an experience that puts designers in literal contact with history, skills, and people who make a real difference in the way we relate to each other."
Saige Sommese
"Besides the company and atmosphere, my favorite part of this trip was the lettering work shop with James. That is something I never would have done on my own and it taught me a great deal about patience and perseverance."
Julie Zielinski
"My favorite Roman experience was visiting the Forums with Dr. Arya. He explained the history of Rome with such enthusiasm, that it made me feel a more personal connection to the ancients of Rome. His lessons and perspectives provided a unique insight to the ancient Roman way of life."
Sarah Zimmer
Where to start? This experience has been incredible. Daily I've had moments where I take a step back, look at where I am, who I'm with and what I'm doing and feel awestruck. How did I get so lucky? Is this real life? You each are an inspiration and icon and I'm honored to have been part of this program with you. Thank you for your knowledge, expertise, kindness and humor over these past two weeks. I have learned so much from you!
What I love most about Rome is that here you are among some of the richest history in the world. A dark doorway leads to an epic church with sweeping gilded chapels, a turn down a small lane reveals decades-old gorgeous hand painted signage, turn another corner and in front of you is a building that dates back to 100 AD. And beauty is everywhere here. The colors, the textures, the shapes, the designs, the typography! Rome has forever impacted my design eye and I am so grateful for this experience. I can't wait to see how it continues to inform my work into the future.
Grazie Mille!!'