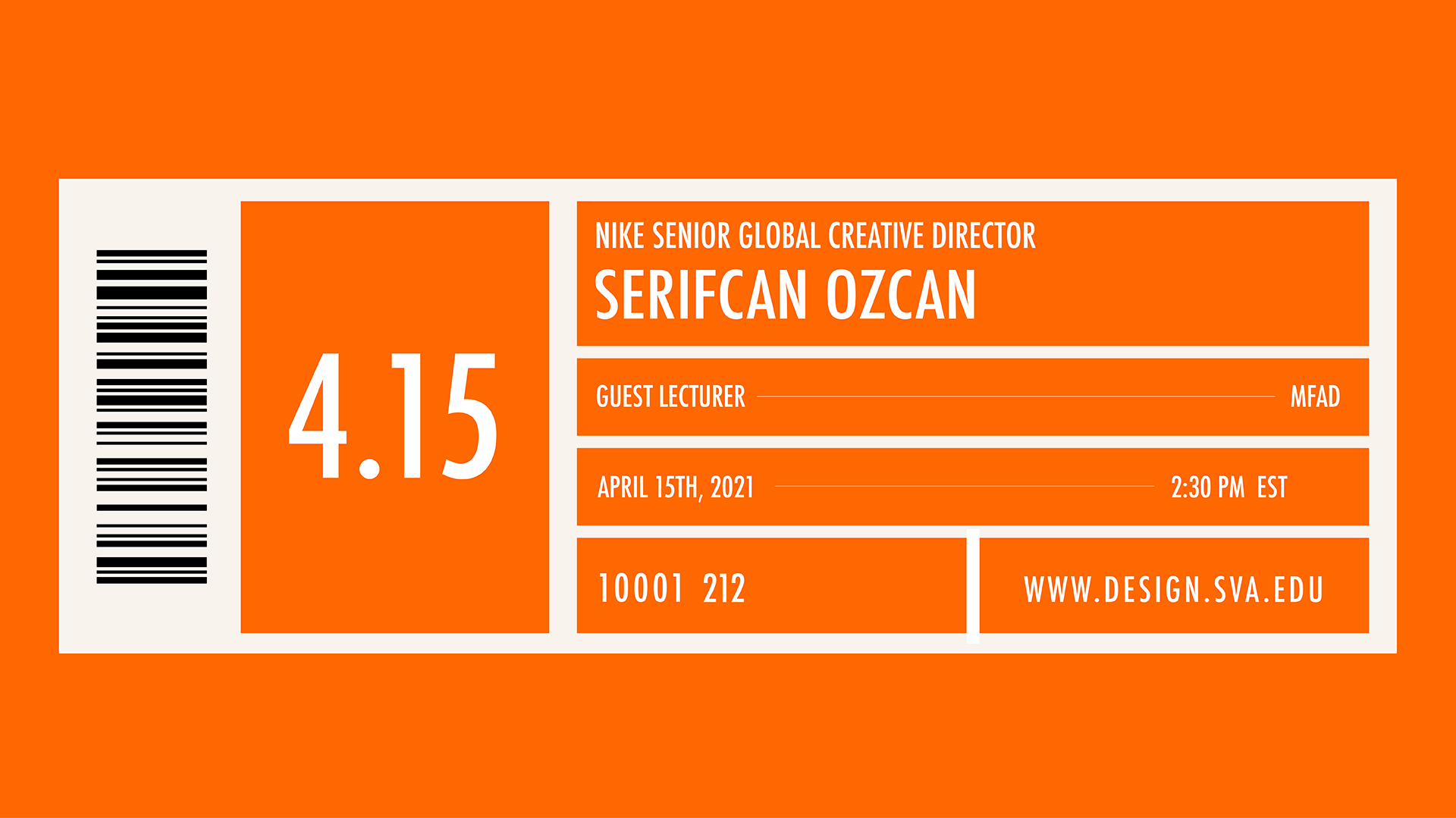 Special Guest Serifcan Ozcan Shares his Nike Roots
Apr 20 2021
by Emily Roemer / Poster by Julia Hummell
Serifcan Ozcan came to MFAD last week. He was our final guest of the semester. To say I wish he still taught in our program would be an understatement. Spending an hour and a half talking through his designs and concepts on major projects was inspiring and extremely exciting.
We started off talking about the Sprite themed bodega he helped design, 'The Sprite Corner." This was an art installation to promote sprite. He said, "As a designer it was a treat — this was design from every single angle possible. We created fake products to cover up the windows, we did the posters, the merch, every single piece of the work. It was so fun to think of it holistically." He showed us fake products they got to create like "Dope Soap" and "Bean Muggin" and he spoke about the merch and how he insisted on getting a deli fridge to store the t-shirts and hats in, he said, "You could actually wear a chilled shirt, which felt really nice in the dead of NYCs humid summer." I love this concept — especially knowing how hot NYC summers can get.
He then talked to us about teaching, from 2015-2016. He said it was 'really fun and engaging for me" and he felt that the biggest problem he saw in design school was the difference between education and real life. It was a course about 'Surviving the design process'. He said, "I created a syllabus, but I'd change the projects all the time, throw curveballs at the students' every project." This simulated real life design work.
He spoke to us about Rhizome and the extremely conceptual logo and went on to talk about his work for the rebrand of Bud Light. He worked on a super interesting project for Squarespace and got to work with Jeff Bridges on a full album of "Sleeping Tapes." Even though the album and packaging and everything was for the Super Bowl commercial for square space, he said his team wanted to, "build the whole world behind it." You can (and totally should) check it out here: dreamingwithjeff.com.
Then, he brought us into the world of Nike. He talked about the sneaker 'treasure hunt' and how they created interactives and hidden Easter eggs for huge Nike fans. He spoke about the Nike Air Max campaign and how exciting that was. He said working for Nike was 'a spring of events—when I look back it all makes sense, have I planned this? No, but it makes total sense. My mom disagrees and thinks a faith in a plan that brought me to Nike." He also said, "All the Nikes that I owned, I have always loved the company. I have a passion for the brand, and my passion towards it helps me make better stories around the brand."