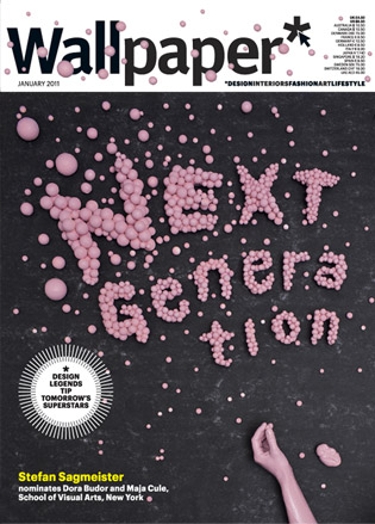 Up Against the Wallpaper*
Dec 21 2010
Dora Budor and Maje Cule (MFAD '11) designed the "The Next Generation Issue" of Wallpaper* as one of the limited edition covers. Faculty member Stefan Sagmeister nominated the duo.
Here's what the Wallpaper* blog had to say:
"The idea of a bank planting the seed for creative growth and artistic collaboration is a rather odd one, but for designers Budor and Cule it was a chance meeting in a bank lobby and the sharing of a pen to fill in a tax report that led them to having a coffee together, and rather fortuitously to start up their design practice, One Corporation. 'Our inspiration comes from everyday situations, quotidian phenomena, but also invented narratives and constructed realities,' say Budor and Cule. 'We both share a fascination with storytelling and small cracks in reality. Sometimes we compete to see who can find the most beautiful plastic white bag. The playfulness comes from the wonder and naivety of seeing things every time for the first time and getting rid of everything that we ever learned. We also believe that one thing can be done in endless different ways'.
Most inspired by: 'Andro Wekua, because, after him ,waiting would never be the same, DIS magazine for bungee-jumping fashion from Brooklyn bridge, spam mails from Nigeria, and the differences between the shopping malls of the world. We are also huge fans of Helmut Smit's "The Real Thing" (installation to filter Coca-Cola into clean drinking water), how Olaf Breuning makes you climb hundreds of stairs to his studio, looking at yourself in observation mirrors, and whatever Urs Fischer digs.'"